Search for articles:
To find answers to your questions, enter topics into the search bar below. For example, type: "How do I share contacts?" or "Notifications".
Knowledgebase
MSP Advantage Only: How to order an Email or other custom asset from the Mindmatrix Team
Posted by The Team at Mindmatrix on 29 October 2014 11:12 AM
For another resource to help you request a customized asset from our team, click here.

How to order an email:
If you would like the team to copy an existing email template and paste your new text/message on it, you can send your order directly to the Mindmatrix Support Team, either by sending an email to support@mindmatrix.net or by submitting a ticket here.
Please note: the MSP Advantage Program services do not include proofreading, editing, or writing content. If there are mistakes in your email- those mistakes will be pasted into your email. Be sure to send a final, proof-read version of your text in a word or notepad file. Also custom templates are not included but can certainly be purchased. If you wish to have a different header, images, footer, please speak to your specialist about a price quote.
In order to execute the task quickly and accurately... you should include the following information for emails:
Subject Line
Personalization - Do you want personalization in the greeting? The template does contain variables that will pull your contacts' first name out of their contact record so each recipient will appear to get an individual email (example: Dear Jane,). This is a very powerful tool that can increase open rates. Specify to keep greeting or delete it. Custom greetings offered for a fee only.
Content - Include the text/body of the email.
Hyperlinks - If you want any hyperlinks- please specify what words are hyperlinked and with what URL. If you want spaces between paragraphs, please be sure those spaces are in your word doc. * You may use Word to deliver your order because it will allow you to use Bold, Italics and other formatting preferences. Just keep in mind that our team cannot paste Word text directly into an HTML editor. So there may be slight differences in formatting on your final HTML rendered email. We will try our best to keep it the same.
Recipients who should receive the email - Who do you want to receive the email? Do you want it send to just prospects? Do you want it send to just break-fix/upselling customers? Do you want it sent to all contacts? Please specify.
Time/Date of Email - When do you want the email sent? Please provide date and time range. We cannot guarantee delivery at any specific hour but we will press the send button at the time of day you wish. Server queue will dicatate how fast or slow the emails will actually send. 24 hour delivery is guaranteed but it typically does not take more than an hour depending on the size of your list.
How to order a form:
Here is the information you should include for forms.
Content - Included the text you want to appear in the form.
Fields - Explain what information do you want respondents to provide (such as first name, last name or email), which questions should be optional, and which should be mandatory.
What To Expect:
A Copy of Your Email/ Form? - Do you want to see a copy of the asset before we send it out? We can send you a copy to view before sending it. However, this is not for making adjustments and corrections to your text. The sample asset is for reassurance that we did not make any mistakes. Please proof-read your content before you send it to our team. If you need corrections made because of an error on your provided content, our team can correct them with new text given- however- this is subject to an hourly fee.
You can always opt to have the team just create and send out- this will allow the email to go out faster without back and forth communication.
Remember What's not Included:
* Signature line edits are not included in any asset. You may change the "regards" to "sincerely" but the variables (First Name, Last name, website, phone number, etc.) in the signature line cannot be edited. Those variables pull from your profiles. If you would like a custom signature, please let your specialist know so you can be quoted a cost and timeframe.
If you have any questions, please speak with your specialist. Thank you. Below is an example of how your email will look.
Here is an example of how a customized form might look, when inserted into a landing page: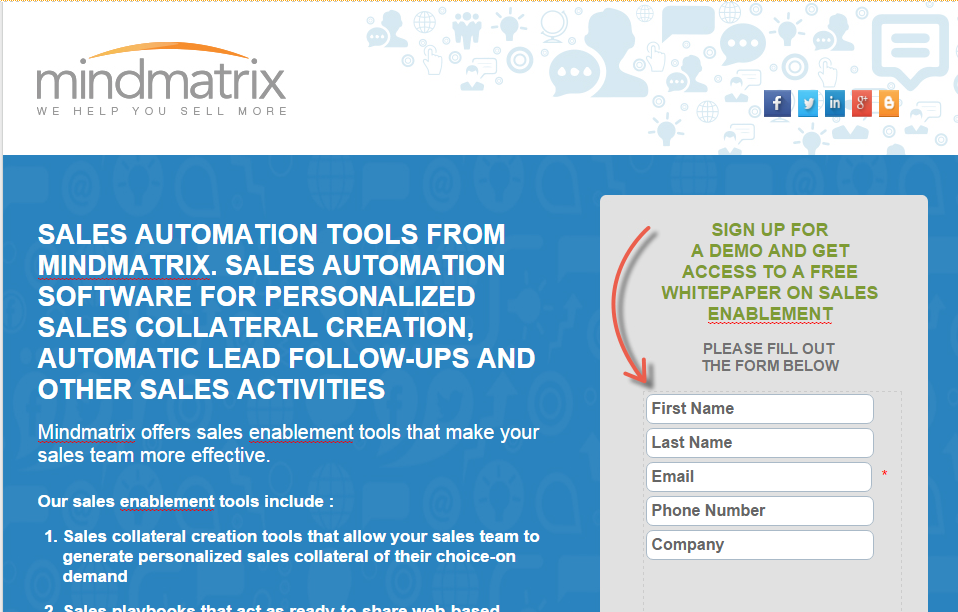 Interested in learning more about Mindmatrix software? Join our email list to get the latest software release notes, videos and how-to articles.
---