Search for articles:
To find answers to your questions, enter topics into the search bar below. For example, type: "How do I share contacts?" or "Notifications".
Knowledgebase
How to manage Organizations
Posted by The Team at Mindmatrix on 26 June 2015 06:04 AM
Overview
The most significant part of this section is that it allows you to create, delete and manage users and roles for the organizations (depending on the role). It also supports in viewing a total number of organizations in a folder and provides the relevant details (name, created on, and updated on). In a nut shell, you can also find the right records in any listed organization and allows you to sort the organizations list based on conditions like 'Updated On', 'Created On', and 'Name'.
To manage an Organization in Mindmatrix, follow the steps mentioned below:
Go to the "Setup" icon situated on the left side of the page, which will give you a drop- down list. Select the "Organizations" option.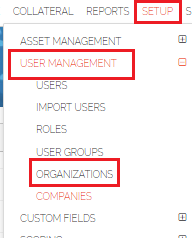 1. Create
Click 'Create' to initiate the process for adding an organization to the company.
2. Folder
This section lists the folder containing a total number of organizations.
A) Refresh: Click 'refresh' to reload results of the 'Organizations' folder.
B) Total Number of Organizations: The 'Organizations' folder depicts the total number of organizations in the company.
3. Select Organization/s
You can delete organization/s by selecting the required ones from the list.
Select a particular organization by ticking the relevant checkbox.

Select all organizations by ticking the checkbox next to the 'Name' column.
4. Delete Organization/s
Click the 'Delete' icon to delete the selected organization/s.
(Refer to delete organization/s section)
5. The Organizations Grid
This section depicts the details related to the organization/s.
A) Name: This column displays the name of the organization.
B) Created On: This column displays the organization's date of creation.
C) Updated On: This column depicts the recent date or time when a particular organization was last updated.
6. Conditions to Sort Organizations
You can sort the organization's list in ascending and descending order based on the selected conditions (updated on, created on or name).
7. Search for Records (Organizations)
Enter the name of the organization in the 'Search for records' field to find the relevant organization.
8. Pagination Bar
Clicking on the arrows will allow you to toggle between pages. The pagination bar displays the total number of organizations on the current page out of the total number of existing organizations.
Interested in learning more about Mindmatrix software? Join our email list to get the latest software release notes, videos and how-to articles.
---