How do I setup a Role and Assign it to a group?
Posted by The Team at Mindmatrix on 27 July 2015 06:38 AM
Roles will allow you to assign software level permissions to Users. When you assign roles to groups, you can apply these permissions to multiple Users at one time and even revoke different levels of access.
To start:
Click on "Setup" and then click on "User Management" and then click "Roles". In the roles section, hit the "Create" button.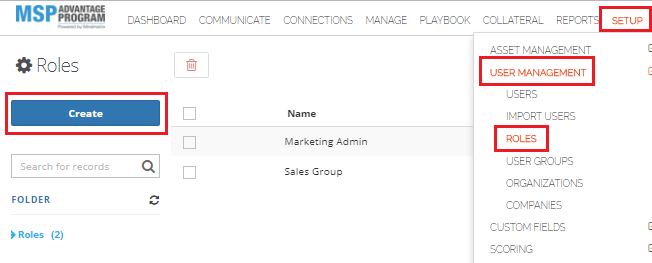 In the "Media" tab, you can slide forward to make areas of the software visible. The media tab controls all access EXCEPT for access to the Setup section. "Not Set" means that this Role will not let Users access this section of the software. Sliding the bar all the way up to "Delete" will let users access those sections listed and delete their own creations.
In the "System" tab, you can slide up additional permissions for controlling the software. Here, you can decide what administrative level functions a User should have access to adjust or change. For example, slide the bar next to Users all the way to the right to give someone permission to create more Users.
In the "Features" tab, you can turn on User access to 1) drip - Play any drips 2) notifications - turn on notifications in their User Profile 3) autopublishing - Access any social media publishing 4) contactsharing - Share contacts 5) marketingui - Access a marketing UI
You can also select the "Persona" for the role, which determines the type of UI users see when they log in.
To save your work, click "Save".
Next, go to the Group section and create or edit your group.
The software will automatically walk you through this process.
On Step 3, "Roles", simply select your role and click "add" to give all Users in your new group these permissions.
Interested in learning more about Mindmatrix software? Join our email list to get the latest software release notes, videos and how-to articles.
---