Posted by The Team at Mindmatrix on 27 July 2015 06:47 AM
Why Create Groups?
Creating a "Group" will allow you to easily organize your Users to share assets or assign system level permissions in Mindmatrix.
Groups will let you share assets with large numbers of Users simultaneously.
For example, if you create a Marketing Group and a separate Sales Group, you can easily share relevant assets to all of your Marketing users by sharing them to the Marketing Group, instead of each marketing User. This also makes it easier to revoke permissions.
Groups will make it easier for you to change permission levels in the Software for large numbers of Users.
If you need to repeal permissions for all of your Marketing Users, the easiest way is to assign them to a Group where a Role is assigned. This way, you change permission levels in the Software for all of your Marketing Users by just adjusting a single role, or reassigning a new one to the Marketing Group.
Instructions
To create a new group, go to Setup, then User Management and then User Groups.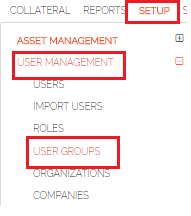 Then click "Create" to make a new group.
Create a name for your group and click "Next" when you are finished.
Choose which users you would like to add to your group by click on the "+add" icon by their name. Once you are finished, click "Next".
Finally, you can pick which role you would like this group to have. To select a role, "+add" next to the role. Once you click "Next, your new group will be added.
Interested in learning more about Mindmatrix software? Join our email list to get the latest software release notes, videos and how-to articles.
---