How do I create custom fields?
Posted by The Team at Mindmatrix on 13 August 2015 07:36 AM
Note* Custom fields will allow you to record even more data about your contacts. They can be used in your forms and updated from your CRM.
To start, click on Setup > Custom Fields

, then choose if you'd like a custom field for Contact, Opportunity, or Product

.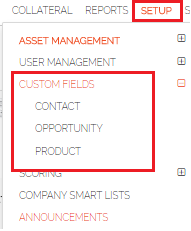 Give your tab a name to help you organize your fields.
Name your tab and click Add.
Click on Add another form field.
Select the Type of field you would like to create. You can select NUMBER, DROPDOWN BOX, TEXTAREA, CHECKBOX, DATETIME, and TEXT.
Enter a field display name and give it a unique parser name.
If you do not enter a parser name, your contact field will not work.
Click "Save" on your field, and then Save again on the field page.
Interested in learning more about Mindmatrix software? Join our email list to get the latest software release notes, videos and how-to articles.
---