Posted by The Team at Mindmatrix on 19 August 2015 04:18 AM
Forms are online questionnaires that you can use to collect information on your customer base.
To create a form, click on "Setup", then "

Asset

Management",

then "Templates,"

then select "Form" and click on "Create".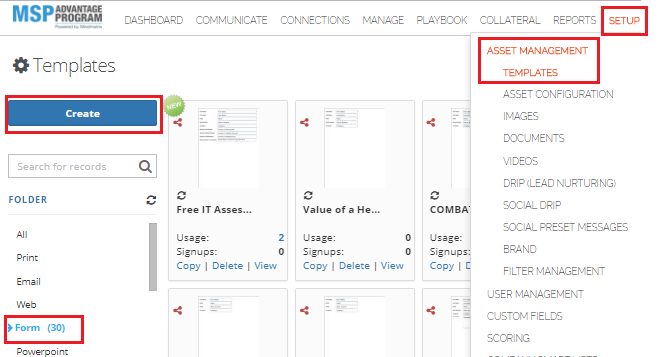 When you have entered the name, description, and filters you want, and then click "Next".
Select the questions that you wish to appear on your form. When you have selected all of the forms you need, scroll to the bottom and click done. For information on how to create contact fields click [here].
Once you click "Save", you will automatically be taken to the editor window.
The top bar of the editor will allow you to add, remove, and preview content.
To edit the borders and background of the form click inside of the yellow dotted square. This will cause a new menu called "Form Object" to appear on the upper left hand corner and a new entry to appear on the top menu bar.
The hide/ show property option will cause the "Form Object" box to appear/ disappear from view.
The "Form Object" box allows one to change the size, position, border, background color and title of the form.
To edit any of the fields move your mouse in the upper left hand corner of the field. This will bring up a menu allowing to the user to make the field required, hide it from view, or delete it, or to change a field's title,size or position.
Select the web template that you wish to embed your form in. For information on how to create web template click [here].
Clicking on a template will take you back to the editing window, this time with the form and web template combined.
The top menu will allow your to add further visual refinements.
To allow other users to view, use, and/ or edit this document, click view, and then permissions.
When you are satisfied with your landing page hit "save".
Interested in learning more about Mindmatrix software? Join our email list to get the latest software release notes, videos and how-to articles.
---