How do I turn on smart list notifications?
Posted by The Team at Mindmatrix on 28 August 2015 09:57 AM
First, go to Connections, then Lists.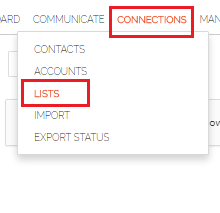 Notifications can be turned on using smart lists. For information on how to create a smart list, click here.
Click on the smart list you would like to receive notifications for.
Click "Views" and then "Notifications & Sharing".
Choose which party you want to send the notifications on behalf of: yourself (the user), the creator of the notification, or any users set as "owner".
Choose to receive Email or SMS notifications.
Once you turned on your notifications, click "Save" at the bottom of the page.
Interested in learning more about Mindmatrix software? Join our email list to get the latest software release notes, videos and how-to articles.
---