How do I upload multiple files to share with other users?
Posted by The Team at Mindmatrix on 28 August 2015 10:04 AM
You can upload multiple files in the AMP software. On the sidebar, go to Setup and then choose Images or Documents. (Please note that other users can go to Collateral > Gallery to upload their own images if they are not an admin and have access to the Setup section).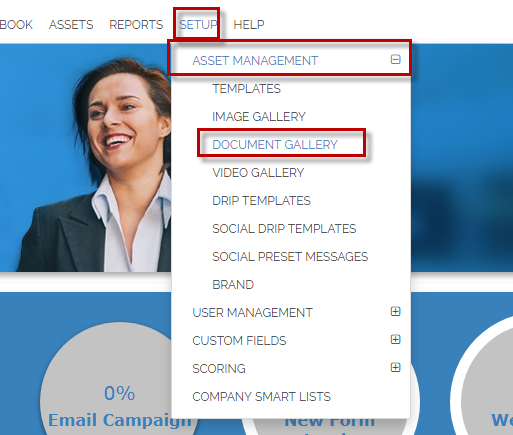 You can also add documents by using the add document options in the Playbook or Media/Template editors.
Once you are in in the Image or Document tabs, click the Upload button. You should also choose "My Documents" or "My Images" if you would only like these items in your account.
To upload documents or images, drop the files or click. You can import up to 10 files at once.
You can drag multiple items to add them to your documents or images galleries.
To select one document at a time, simply click a single document and select "Open".
To add multiple documents or images, in the window that opens, click the left mouse button while simultaneously holding down CTRL. This allows you to choose all documents or images at once. When you are finished choosing your documents or images, click "Open". After you click the "Open" button, AMP will start to process your files for import.
If you would like to delete a document that you have uploaded, click "Hide Item".
Once you are finished, you can click "Done".
Your documents or images have now been added.
Now, choose to share your documents with other users by clicking Permissions, or rename and apply filters to your document.
NOTE: The Maximum file size for upload should be 25 MB.
Interested in learning more about Mindmatrix software? Join our email list to get the latest software release notes, videos and how-to articles.
---