How do I create a trackable link?
Posted by The Team at Mindmatrix on 28 August 2015 10:14 AM
First to go to Manage, External Tracking, and then Links.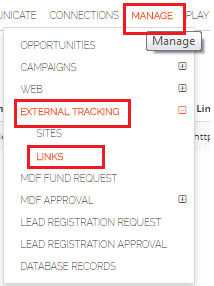 Click "Create" to create a new trackable link.
You can either choose to enter the URL that you would like to track or you can choose an item from AMP to track.
I selected that I wanted to track media, so I would need to choose the type of media that I wanted to track.
Choose the item you would like to track and click "Done".
If you use media, images, or documents in the software, the software will enter the URL for you and you would need to add a Display Name. If you would like other users in your account to be able to receive tracking information on the link, click "Public Company Link?". When you are finished. Click "Save".
This will bring up a trackable link for you to copy and paste for use. When you are finished, click "Ok".
Interested in learning more about Mindmatrix software? Join our email list to get the latest software release notes, videos and how-to articles.
---