How do I set a date and time for an email in a drip campaign?
Posted by The Team at Mindmatrix on 08 September 2015 02:38 AM
Setting up a drip campaign
Go to Setup > Asset Management > Drip (Lead Nurturing) > Select "Create".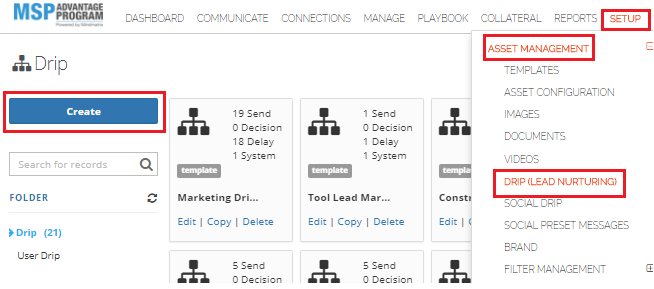 Name your new drip template using the settings button, set your permissions, and also view the help video using the respective icons noted in the image below.
The Program Help will come up and give you a key for the icons in the Drip Template Editor.
You can start drip with a condition or a send event.
An example of a starting condition would be: "Must be a prospect" you would select that using the contact record option in the conditions.
Choose your conditions, click on the Add button to select them, use the advanced tab to edit and/or conditions, then click on Submit.
You can also begin with a send event. Choose an email template and then click on Submit. You can name the event in the space provided or the system will choose the template name as the send event name.
By clicking on the Send On box, you can choose what time you would like the email to go out on. Note that emails are always scheduled according to your browser-

based

time. So, for example if you schedule an email at

2pm

and are in the EST timezone, it will go out at

2pm EST and 1pm CST

.
Next you can add a delay. To add a delay, select the delay icon.
Now you have the option to name your delay event, choose a relative or an absolute delay time. Click on Submit when you are finished.
You may also choose to add a system event to your drip template. A system event consists of moving to another drip template, a different node of the same drip template, or you can use this feature to update your contact records (see Knowledgebase article on contact record update program).
Choose the system icon to add a system event.
Next, name your event, choose the tab that corresponds to your chosen action. Choose "Move to Program" to select a different drip template, choose "Go to Event" to select an event from the same template, "Update Contact Info" to update contact information, "Create Tasks" to create a task for a sales user, or "Remove Contacts" to remove a contact from the drip.
For example, if you want everyone who received HIPPA Email 1 and finished the 14 day delay to be added into the (Sales Qualified) Lead Engagement Drip, you could do so here.
Make sure to hit Save at the top of the screen while you are creating your campaign template to save any work.
As a best practice, you should test your drip campaign to make sure it is working properly. To test your drip campaign, click on the Test icon.
Choose the contact in your list that you want to send the test drip campaign to by checking the box by the name. We suggest sending the test emails to yourself to make sure everything is working properly..
Continue to click the Proceed to Next Item link until you have completed the drip campaign.
Once you finished testing the drip campaign template, you can click Done at the top of the page.
The last step is to set your permissions. You can choose specific permission levels for each user in your company, as well as if you would like them to be able to copy the drip template or if you want it shared with them. Once this is completed, you can hit Next to save the email drip campaign template.
There are tons of different ways to build each email drip template. Important things to consider when creating an email drip campaign are:
1. Are your email templates completed? You cannot build your drip campaign without your send events created. You may edit the templates, after the drips are created, but you need to have the templates created to choose them in the template builder.
2. Set event permissions. These templates can be used by any marketing and sales employee. Set permissions on editing each event within the event selector.
3. Create your basic email drip templates in the Setup tab. To add contacts and start drips- go to the Manage tab, and then hit Campaigns. Drip template edits can be made here, as well, based on the permissions set in the Setup tab.
4. Sales interface can only use the templates provided with no editing options.
5. The layout of the drip cannot be edited once the program is running.
Playing your drip campaign
To find your available email and task drips, click on "Manage" in the left sidebar navigation.
Then select "Campaigns" > "Drip (Nurturing)".
Note: Check with your company's administrator if you do not have access to this section.
Playing your drip campaign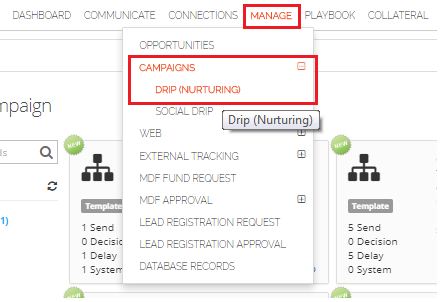 Click on the "Running" section to see which campaigns are already playing.
Click on the "Stopped" section to see which campaigns are not playing yet, but have already been customized.
The "Scheduled" section displays campaigns that are scheduled to start on a later date.
"Templates" are Drip Templates that have not been customized or setup to play yet.
If you want to play a "Stopped" drip that you have already setup and customized, then click on "Stopped".
If you need to make any final edits or setup a new drip from a template, here is more information on editing an email drip campaign and setting up a drip template.
To play the drip immediately, click on the "play" triangle button where the current status reads "stopped".
To confirm you are ready to play the drip, click "Yes".
When your drip has started playing, it will change from "stopped" to "running".
Interested in learning more about Mindmatrix software? Join our email list to get the latest software release notes, videos and how-to articles.
---