How do I create a PowerPoint template?
Posted by The Team at Mindmatrix on 08 September 2015 08:22 AM
Option 1 - Converting an Existing PowerPoint presentation into a Mindmatrix template:
1. Make sure you have the Mindmatrix Desktop Widget installed.
2. Click on Insert and select AMP Field Chooser.

3. This will allow you to convert your Powerpoint presentation into a Presentation Template in Mindmatrix.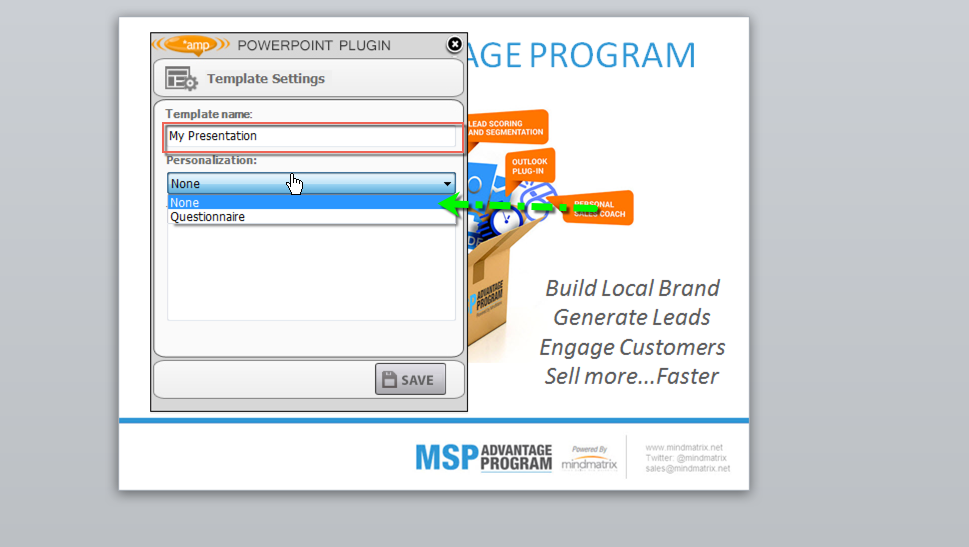 Name your template and pick None or Questionnaire depending upon what features you would like to add. Questionnaire will allow you to create a presentation that forces users to complete a series of questions before creating their Powerpoint asset.
3. After clicking Save, this will create a presentation in your account in Mindmatrix.
You will now have access to several editing options: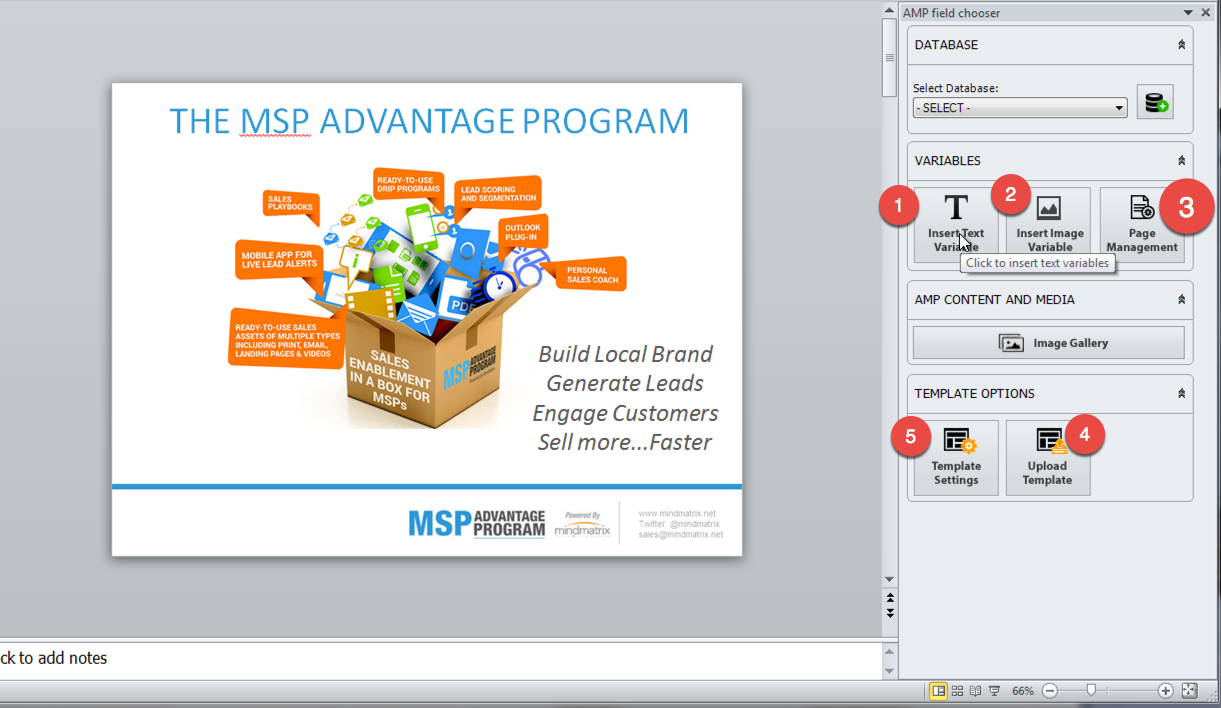 P
1 - Insert a text variable will let you add personalization for contacts, users or your company
2 - Insert Image will let you access image personalization
3 - Page Management will allow you to restrict access to Powerpoint pages based on user settings or contact settings
4 - Template Settings will allow you to adjust description and other features of your template.
5 - Upload Template will let you update the current presentation asset within Mindmatrix with your changes.
4. Below, we used the text option to add fields from the contact for first name.
6. Clicking Insert to slide will add the text to your slide. Once added, you can move it around the template.
7. You can also just insert an image from your Mindmatrix gallery by clicking Insert Image:
5. Clicking Upload Template to update our presentation template:
If you check your account in Mindmatrix, you can view your finished presentation under Setup > Asset Templates > Presentation: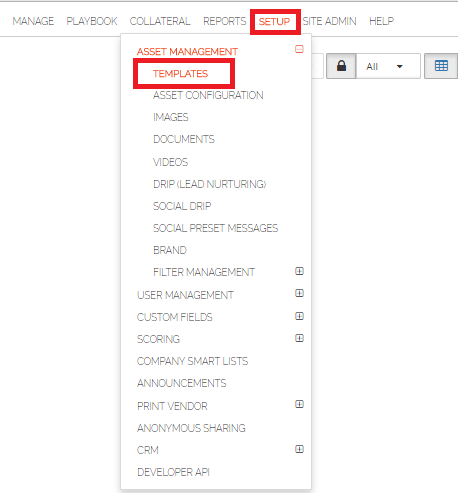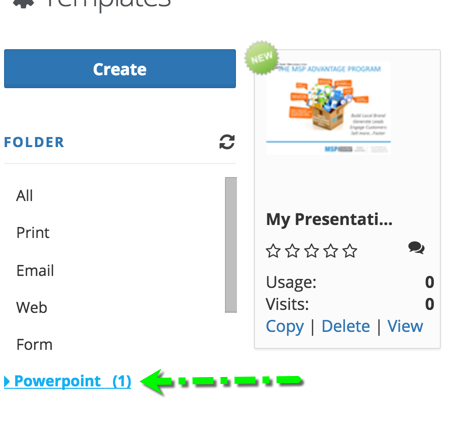 Remember to share your Powerpoint presentation after you create it by using the permissions option. Your users will then find it under the Assets > Personlized Assets > Presentations: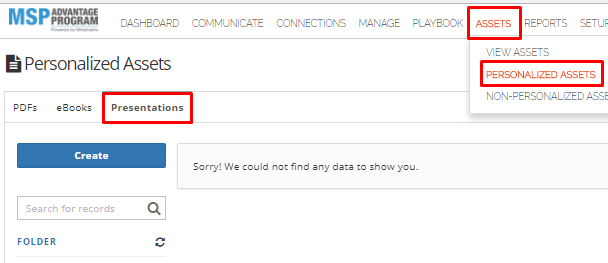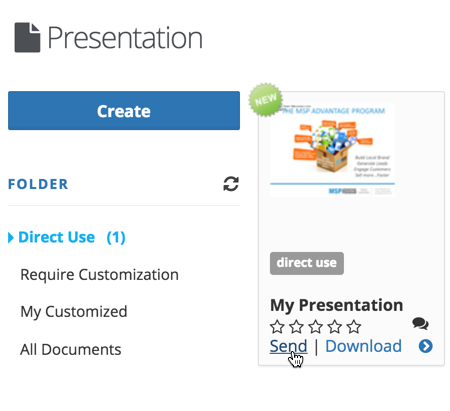 Option 2 - Creating a PowerPoint presentation in Mindmatrix:
To create a powerpoint template go to "Setup", then "Asset Management", then "Templates", then click on "Powerpoint" in the "FOLDER" section, and then click the blue "Create" button.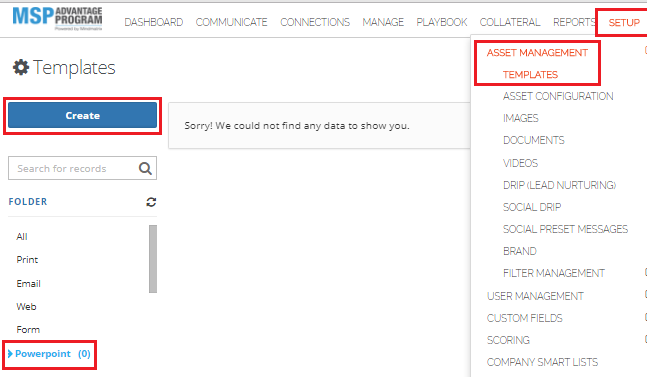 This will bring up the "Create PPT Template". Enter a name for your powerpoint and, if you wish, add in a description and set of filters. When you are finished click next.
Next choose the files that you wish to bring into the Powerpoint. If the files you need are in not in the system, then you can upload them using the blue "Upload" button. Note that this program will only accept /pptx files, even if other types of files appear in the window. If you select anything else the page will not load. When you have the files selected, click next.
This will bring up the "Manage Slides" tab. Here you can rename and reorder your slides as you desire.
When you are finished click next.
This will take you to the "Presentation" window.
The arrows on the left and right will allow you to the previous or next slide. The arrow on the bottom left hand corner will allow you to move to a specific slide. In the upper left hand corner are button allowing you to edit template permission and download the template.
When you are finished, click close
Interested in learning more about Mindmatrix software? Join our email list to get the latest software release notes, videos and how-to articles.
---