How do I import contacts?
Posted by The Team at Mindmatrix on 08 September 2015 08:26 AM
Before you begin, please make sure that your contact lists are in a CSV using one of the templates here.
Once you have your CSV saved, you are ready to import contacts.
First go to Connections, then Import.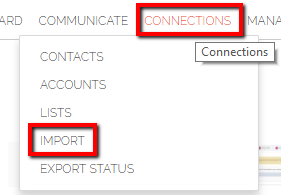 Click "Import" to import your contacts.
Next, you can choose which option you would like to use to import contacts. Once you made your choice, click "Go".
If you chose to import a CSV or TXT file, you will need to upload that document.
Drop your file to upload or click on the box to find a file on your computer. Once you have selected your file, click "Done".
Choose your file that you would like to import and click "Next".

You will need to map your fields. You must have either an email address or mobile number in order to import the list. By default, the software will add these contacts to a recipient list called "Import [Date] [Time]". To create a new recipient list or add your contacts to a recipient list, click on the "+" icon. You can add contacts to more than 1 recipient list.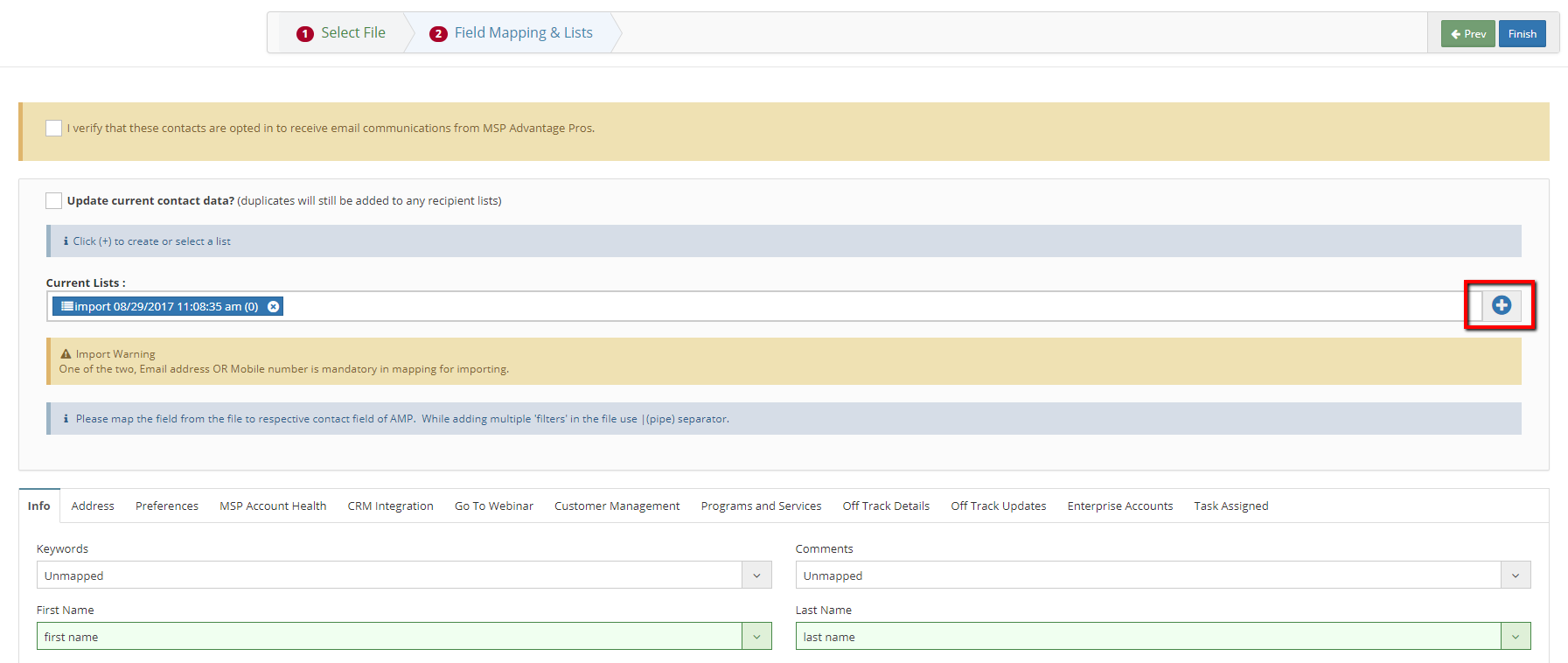 Select a recipient list that has already been created or you can create a new recipient list.

If you are creating a new recipient list, create a name for your list and click "Save".

Once you've selected your recipient list, click "Select" in the bottom right corner of the window.
To remove the original recipient list, click on the "X" icon to remove it.

If you would like to update contact data with this list import, select the checkbox next to "Update current contact data?". This allows you to bulk update contact records. Please keep in mind that if you have a CRM integration set up, the CRM record is the master record, so if you need to update contact records, please do so in your CRM.
Be sure to verify that all contacts are opted in to receive emails from your company.
Once you have completed these two steps, click "Finish".

Interested in learning more about Mindmatrix software? Join our email list to get the latest software release notes, videos and how-to articles.
---