Search for articles:
To find answers to your questions, enter topics into the search bar below. For example, type: "How do I share contacts?" or "Notifications".
How do I create an announcement for my entire company?
Posted by The Team at Mindmatrix on 08 September 2015 10:36 AM
Note: Only admin can use this function.
To send out an announcement to all users, go to the "Set Up" section, and then click on "Announcements".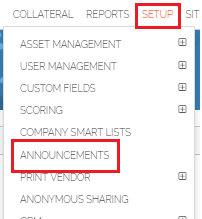 In the "Announcements" section, click on the blue "Create" button.
Give you announcement a title and content. When you are finished, click on the "Save" button.
Your announcement will now appear to ever user in the "Quick Links" section.
Interested in learning more about Mindmatrix software? Join our email list to get the latest software release notes, videos and how-to articles.
---