Search for articles:
To find answers to your questions, enter topics into the search bar below. For example, type: "How do I share contacts?" or "Notifications".
How do I export contacts, lists, and accounts?
Posted by The Team at Mindmatrix on 09 September 2015 05:42 AM
Exporting contacts into an excel file
To export a contact list, click on "Connections" and then click on "Contacts". If you wish to narrow down the contact field further, you may click on one or more filters. For this tutorial, we will filter our contacts by "Inactive".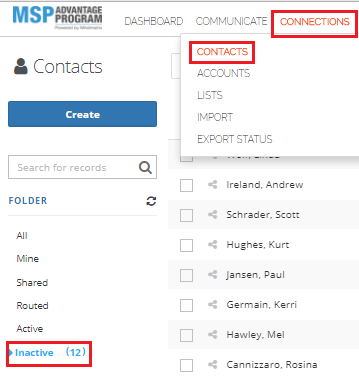 From there, select the contacts you wish to export, click on the "gear" icon and then select the export option.
This will bring up the "Contact Export: Field Selection" menu. Click on the data fields you wish to export, and then click on the "Generate" button.
In the connections, click on export status, and then click on the download option.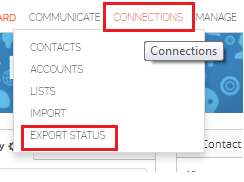 You can use these same steps to export data from accounts and smart lists in their respective sections.
Interested in learning more about Mindmatrix software? Join our email list to get the latest software release notes, videos and how-to articles.
---