How do I add filters to contacts?
Posted by The Team at Mindmatrix on 09 September 2015 05:57 AM
To help organize your contacts and easily search them later, you can add multiple filters to individual contacts and/or contact lists.
To access your contacts, click on the Connections > Contacts

This should load a window with a list of all of your contacts.
Next, click on a specific contact you would like to add a filter to.
This should open a window with the contact's full information.
Click on the "Views" tab on the top right of this window. Then click "Filters".
You can add the filter to this contact by typing the name of the filter then selecting it from the drop down list. Here is an example.
You can add multiple filters by simply typing in another filter name after your first filter is selected from the drop down.
When you are complete, click the "Save" button on the bottom right.
To add a filter to a contact list, click "Lists" in the "Connections" section.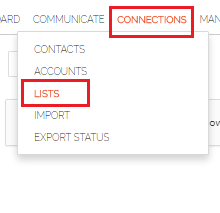 This will then generate a window with all of your contact lists.
You can add a filter to any "Smart List" or "Recipient List".
Click on the list you would like to add a filter to.
When your list window opens, select the "Views" button on the top right, then click "Info".
In the "Info" section you can add as many filters as you like.
Start typing the name of your filter in the "Filters" field then click the option you want from the drop down. Type another filter if needed, then select that one from the drop down, as well.
"Save" button on the bottom right when complete.
To confirm you have done this correctly, you will see your "Filters" listed on the left side of your contacts. Select the filter you just created to see the list or individual contacts that you updated.
Interested in learning more about Mindmatrix software? Join our email list to get the latest software release notes, videos and how-to articles.
---