How do I create recipient lists?
Posted by The Team at Mindmatrix on 09 September 2015 06:22 AM
To create a recipient list, click on Connections > Lists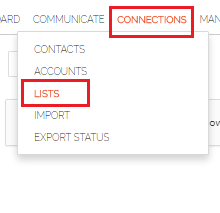 Select the "Recipient Lists" folder, then click on the "Create" button.
Enter in the "Name", "Description" and add any "Filters" needed to your Recipient List.
When you are complete with this section, click "Next".
In the "Contacts" section, you can add current contacts to your Recipient List.
You can search for a specific contact as needed through the search bar on the top right, then click "Add" to each contact you want to add to that list.
You can sort your contacts by "Name", "Last Activity", "Score", or "Email".
Once you have added all of the contacts needed, click "Next" again.
You can edit this list at any time to add more contacts.
This will display all of the contacts that are currently in your list.
Click the "Save" button on the bottom right when complete.
Interested in learning more about Mindmatrix software? Join our email list to get the latest software release notes, videos and how-to articles.
---