How do I create a company smart list?
Posted by The Team at Mindmatrix on 09 September 2015 06:28 AM
When you create a company smart list, all users in your company will automatically have access to this list in their account.
Note: Only administrators have the ability to create company smart lists. If you do not have access to this feature, contact the administrator at your company for more information.
To create a company smart list, click on the "Setup" section on the left sidebar navigation, then click "Company Smart Lists".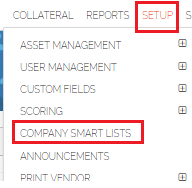 Next, click the "Create" button to start creating the list.
Enter in the "Name", "Description" and any "Filters" as needed for this list.
If the "Show in Widget" checkbox is selected, then this smart list will show up in every users Dashboard under the "Activity And Company Lists" area.
Click "Next" on the top right when complete with this section.
Create "Conditions" based on which contacts you want your users to see filtered into this company smart list. Here is more information on creating a smart list if needed.
In this example, we are adding "Hot" "Interest Level" contacts.
When you are complete, click "Next" again.
The next section is "Notifications".
Here you can decide whether the "creator" (aka "importer") of the contacts or the "owner" of the contacts will receive email or SMS (mobile text message) notifications about them.
You can transfer ownership of a contact or a list to any of your users at any time so they can receive the notifications about those contacts.
Note: Each user has to opt-in to receive email or sms notifications in their personal profile as well.
Click "Next" when your notification settings are selected, and your company smart list will be created.
Interested in learning more about Mindmatrix software? Join our email list to get the latest software release notes, videos and how-to articles.
---