How do I update an email in a drip campaign that is already running?
Posted by The Team at Mindmatrix on 09 September 2015 07:20 AM
You can update content and timing of individual emails within a drip campaign. To do this go "Management", then "Campaigns", and then "Drip (Nurturing)".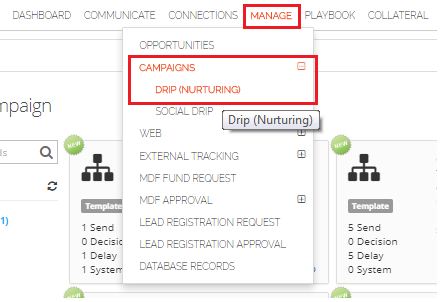 From there, click edit on the campaign that you wish to edit.
This will bring up the "Edit Drip Campaign" window. From there go to the upper left hand corner and click on the "Views" dropdown, and select "Editor".
From there click on the node that you wish to edit. Clicking on the "I" button will allow you to preview the email,and clicking on the "Edit Icon" will allow you to replace it.
Based on the permissions given when the drip campaign was created, you may not be able to edit the timing or order of the drip campaign emails. You can, however, edit individual messages by clicking on the edit button. This will open up the "Send Event" window. If you wish to edit the date the email is sent or change the length of the delay, click on the "Send On" button. If you wish to replace the email itself, click the "Remove" button. (Note, if you want to edit the email, you will have to remove the current copy, make the desired changes in the template editor, and then re-upload it).
Choose the email that you want and then click "Submit".
The new email should now appear the Drip Template Editor.
Interested in learning more about Mindmatrix software? Join our email list to get the latest software release notes, videos and how-to articles.
---