How do I score based on depreciating activities?
Posted by The Team at Mindmatrix on 09 September 2015 08:40 AM
Score on fit model
Scoring on a depreciating model means that a contact's score will decrease over time due to inactivity. To create a model with this type of setup go "Setup", then " Scoring", and then "Contacts".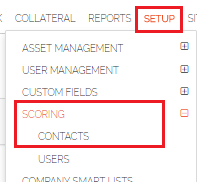 From there click on the "Scoring Models" and then click on the model that you wish to edit.
From there click on the lead scoring rule that you wish to edit.
In the "How would you like to score" drop down, choose "score on activity (depreciated over time)...".
Drag & drop your rules in the box
Now from the "What would you like to score on" drop-down menu, select the activity based on which you would like the score of your contacts to depreciate
For example, let's select "any email opened"
For this tutorial, we will assign it a score of 10.
Threshold limit refers [insert info here], for demonstration purposes, we will set the threshold limit to "5".
Click on "Save" to save the scoring model
Score Depreciation Tab
Now click on the "score depreciation" tab
For this tutorial We will set the number of days to "10" & % depreciation to "%25". To save your depreciation values, click on "Apply Depreciation Settings"
Let's say one of your contacts Joe, opens an email and is located in Pittsburgh, as per the conditions set by us, Joe would get a score on +100 on September 1st. However the score of Joe would depreciate by 25% after 10 days of the activity we selected in the "what would you like to score on" menu. Therefore, on the 10th of September Joe's score would get depreciated to "75". If Joe looks at another email on the 11th of September, his score would again shoot up by 100 making his score +175. However, after 10 days, i.e. September 21'st, his score would have depreciated again by 25%.
Interested in learning more about Mindmatrix software? Join our email list to get the latest software release notes, videos and how-to articles.
---