How do I send emails, texts, and other assets to individual contacts, accounts and group lists?
Posted by The Team at Mindmatrix on 09 September 2015 09:54 AM
To manually send communications to individual contacts, go to the "Connections Section" And then click on contacts. If you wish to narrow down the list of potential contacts, you can click on one or more filters. For this tutorial, we will sort our contacts by "Inactive".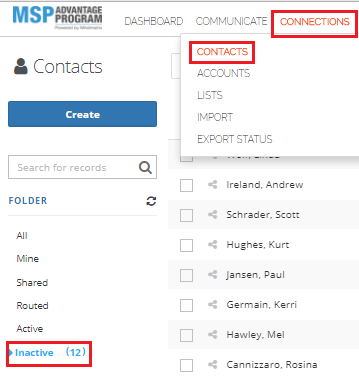 Select the contacts that you wish to reach out to and then click on "gear" icon.
This menu will display a variety of ways you can contact your client
Sending a print brochure, external playbook, ebook, image, or document
To send an asset, click on the gear icon and then click on "Send Asset". This will open the "Select Asset Menu".
To select the type of asset that you want, click on the "View" icon on the upper left hand corner. For this tutorial, we will choose the "Print" icon.
Click on the asset that you want and then click send.
This will bring up the "Select Asset>Send Asset" Menu.
The "From" section will notify contacts which user sent the email.
The "When" box will allow the users to specify when the users will receive the email. If you want to send the email immediately click on blue button and select the "Now" option, if you want to send the email immediately at a latter date, select the "Schedule option". If you want to work on an email at a later date, select the draft option.
The "To" section will list which contacts will receive the email. If you wish to add condition to determine who will receive the email, click on the magnifying glass icon. For more information on how to add conditions and personalizations, click here.
The subject line will allow you to determine how the subject line will appear to contacts if you wish to add conditions to determine how the subject will appear to other users, click on the calendar icon.
The "Attached Files" section will allow you add additional files to your email. To attach files click on the paperclip icon.
When you are ready to send click on the "Send" icon. (Note: if you set the email to either schedule or draft mode, this button will say "Schedule" or "Save" instead).
Interested in learning more about Mindmatrix software? Join our email list to get the latest software release notes, videos and how-to articles.
---