How do I share PDF's with user's or groups?
Posted by The Team at Mindmatrix on 09 September 2015 10:09 AM
To share a PDF, (any other type of file) with users and groups, you first need to access the "Documents" section of your software. To do this, go to "Collateral", then "Documents".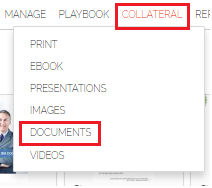 In the "Documents" section, click on the PDF that you wish to share and then click on the permissions icon.
When the "Permissions" window comes up, you can determine the levels access available users, and groups in your system.
Users (or Groups) with the permission level of "NA" will not be able to see the PDF. "View" will allow a user to see a file, and depending on the admin's specifications, to share and share and copy it. "Edit" will allow a user to make changes to the pdf. "Delete" will give users permission to delete a PDF from the system entirely. "Owner" will allow the user to change the permission level of other users.
Interested in learning more about Mindmatrix software? Join our email list to get the latest software release notes, videos and how-to articles.
---