How do I view reports for a print template?
Posted by The Team at Mindmatrix on 09 September 2015 10:15 AM
To view a report on an asset's performance, go to "Setup", then "Asset Management", and then "Templates". Click on the Asset you wish to view. You may wish to use "Folders" and "Filters" to find the asset more quickly.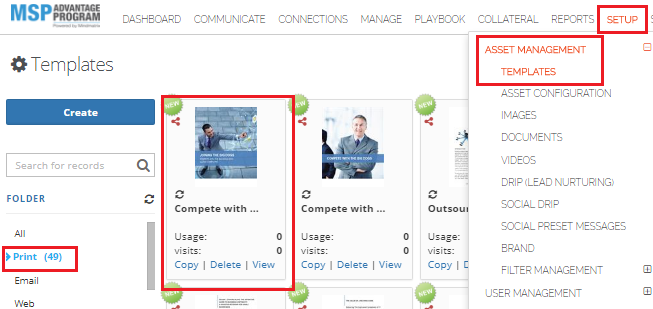 When the "Edit Template" window opens up click on "Reports" in the "Views" drop down.
The "Stats and Activities" graph will show the total number of times a user used a template.
The "Usage Ratio" chart will show the how often a user employed a template relative to all other users.
Finally, the "Usage" Spreadsheet will provide a written breakdown of "who" used the template and "when" they did it.
Interested in learning more about Mindmatrix software? Join our email list to get the latest software release notes, videos and how-to articles.
---