Posted by The Team at Mindmatrix on 13 October 2015 10:29 AM
To create a brand, go to Setup > Asset Management > Brand > Create.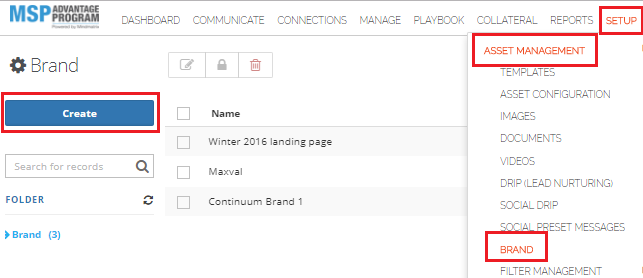 Then give your brand a name, and click "Save".
Your brand will appear in the "Brands" section. To add in assets, click once.
This will open the brand editing window. From there, choose the type of asset that you wish to add in the "Views" drop down. "Image Types" allows to upload images to use for logos, "Doc Types" allows you add in documents "Palettes" allows you to specify the brand's color scheme. "Signators" and "Content Types" allows to you add custom text fields, typically for emails, and finally "Theme Types" allows you to add custom CSS styling. In this example, we will add an image for our brand's logo.
From there, click the "plus" icon.
Give your asset a name, and then click "Upload or Change".
Then select your image. If you are not satisfied with the images available, you can upload your own using the "upload button".
When you are finished, click "Save".
You can repeat this process for each of the asset types until you have a complete brand.
Interested in learning more about Mindmatrix software? Join our email list to get the latest software release notes, videos and how-to articles.
---