How do I re-style a form using brand?
Posted by The Team at Mindmatrix on 13 October 2015 10:30 AM
To create a custom form for brands, go to "Setup", and then "Asset Templates", then "Brand", and then click "Create".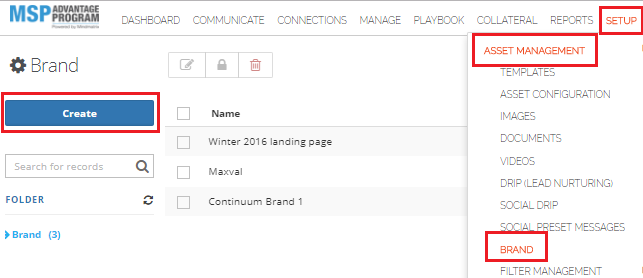 Choose "Theme Types" from the "Views" drop down menu.
To add a new content field, click on the add icon in the upper right hand corner of the screen.
To a form field, click "Add Field".
From there, give your field a name and then click "save". Use the following field names to style a Mindmatrix form:
formfooter - This is the space at the bottom of your form.

formLabel - this is the text label outside of each field.

formField - this is the field itself. Change this to alter the appearance of the form field.

formtextarea - if you use a textarea field, this will style this space.
From there enter in the the html code, to specify the form's shape and color scheme
When you are finished, give your form a name and then click save.
Each field name refers to a specific area of the form you are styling. Below is a list of the form fields you can create in Mindmatrix to style specific areas of your form with examples:
Example Form Theme.

NOTE* This is the equivalent of styling a form using CSS. Example below with same code. Note that each field is the same as a Class:
Form with no Brand applied:
Original.
Finished example with brand applied.
Notice the fields are now grey with different font styling and size.
You can apply your brand to a landing page by selecting it in the web template editor. Under the "Views" button select "Data". Then select your brand from the dropdown box.
Interested in learning more about Mindmatrix software? Join our email list to get the latest software release notes, videos and how-to articles.
---