Search for articles:
To find answers to your questions, enter topics into the search bar below. For example, type: "How do I share contacts?" or "Notifications".
How do I view external website reports?
Posted by The Team at Mindmatrix on 14 October 2015 03:00 AM
There are two ways to view external website reports. For a brief overview go to "Reports" and then "Web", and then click on the subsection also labeled "web".

The "Stats and Activity" box will show the total visits to each website that you are tracking from the past 12 months. Below that are stats listing the total number of sites that you are tracking, the total number of visits across all sites, and the total number of unique visits across all sites.
The "Top Successful Websites" graph shows you the total number of site visits.
The "Recent Popular Websites" grid gives you a breakdown of who has been accessing the webpage and how long they have been accessing it.
If you want a more detailed report of your website statistics, A go to "Manage" and then "External Tracking" and then "Sites"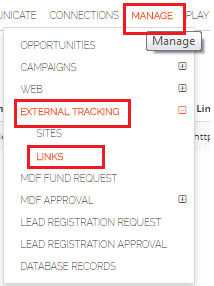 This will provide an overview of all activity on your tracked websites. You can click on individual sites for a more detailed look.
The "Stats and Activities" bar shows total and unique visits, and information about how they are accessing your website, across a variety of time frames.
The "Snapshot box" shows you how contacts are accessing your website.
Finally, the Bird's eye map shows you where most of your visitors reside.
Interested in learning more about Mindmatrix software? Join our email list to get the latest software release notes, videos and how-to articles.
---