How can I see the results of the contacts in a running email drip campaign?
Posted by The Team at Mindmatrix on 19 October 2015 07:32 AM
Step 1: Click to expand "Manage" and click on "Campaigns". Then click on "Drip (Nurturing)".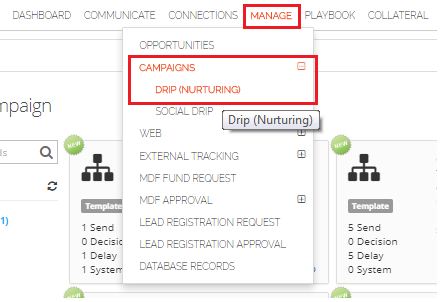 Step 2: Select a template and click on "Report".
Step 3: This will open the Program Report Breakdown.
A) Total Contacts: Total contacts refers the total number of contacts in the drip.
B) Active Contacts: Active contacts refers to contacts who have not completed the drip process.
C) Contacts Waiting: Waiting Contacts refer to contacts that have been sent an email.
Condition 1: If the "Contact Waiting" number is "0", the email has been sent to the contact.
Condition 2: If the "Contact Waiting" number is "1", the email is not yet received by the contact.
D) Open (Open Rate): Open rate refers to total number of emails opened by the contacts.
Step 4: To get a detailed report of "Contacts Waiting" or "Open (Open Rate)" click on the number displayed.
These metrics can provide a good overall picture of the effectiveness of your drip campaigns.
Interested in learning more about Mindmatrix software? Join our email list to get the latest software release notes, videos and how-to articles.
---