How do I create a subdomain to use Mindmatrix landing pages?
Posted by The Team at Mindmatrix on 10 November 2015 05:57 AM
It is a good idea to create a subdomain and point that subdomain to a Mindmatrix URL so you can use your own URL in landing pages inserted into your website and to comply with some pay per click (PPC) advertisement company policies (google adwords).
(Some online advertising companies will not allow you to use the mm.amp.vg/xxxx URL if your destination (landing) URL is different- you will have to follow the process of creating a sub-domain and submitting that to MindMatrix before your URL will match you destination URL). For example- please view this information about display and destination URLs from google adwords.)
Step 1: Approach your website registrar or your DNS provider to acquire a subdomain. You can use the prefix of pages for simplicity (i.e pages.mindmatrix.net is one of our subdomains).
Step 2: Send an email to support@mindmatrix.net including your company name, username, and your new subdomain URL. A member of the support team will respond to your request and let you know to point your CName to your URL. (i.e. mm.amp.vg, continuum.amp.vg, content.amp.vg).
Tell your registrar or DNS provider to point that subdomain CName to the product URL.
Step 3: To edit your landing page, go to the "Management Tab" tab,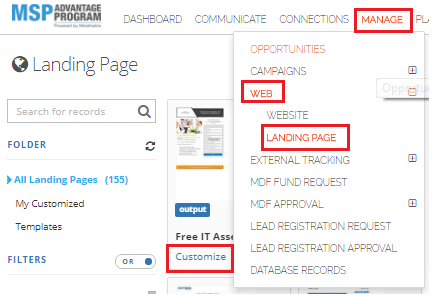 - and use your subdomain URL and (combine) the personalized portion of the URL for PPC campaigns.
See image below for PPC URL instructions and visit knowledgebase article dedicated to that task.
If you are unsure how to accomplish the subdomain task- please submit a ticket to technical support for one on one help.
Interested in learning more about Mindmatrix software? Join our email list to get the latest software release notes, videos and how-to articles.
---