Create smartlist ToDo notifications?
Posted by The Team at Mindmatrix on 23 November 2015 06:58 AM
smartlist ToDo notifications
There are contact notifications and opportunity notifications.
Contact ToDo Notification:
To enable smart list notifications, go to "Connections", then "Lists", and then "Smart lists".
From there, select the list that you would like to create notifications for.
In the "Edit Smartlist" box, go to the "Views" drop down menu and select Notifications and ToDo.
Then select how you want users to receive the notification. They can receive it as an Email, SMS message, and/or a ToDo item on the dashboard.
If you choose to send the notification via email or SMS message, you can attach a message, and select the contact info the User will receive.
Similarly, if you choose to set the notification as a to do task
When you have finished selecting your settings, click "Save".
Opportunity ToDo Notification:
To enable smart list notifications, go to "Manage", then "Opportunities", and then "Advanced Search," then "Create Search Filter"
This will work similarly to smart list filtering.
Name the Advanced Search: Opportunities closing soon
Choose Conditions: here we have chosen "expected close date" is coming soon.
Set ToDo Activity: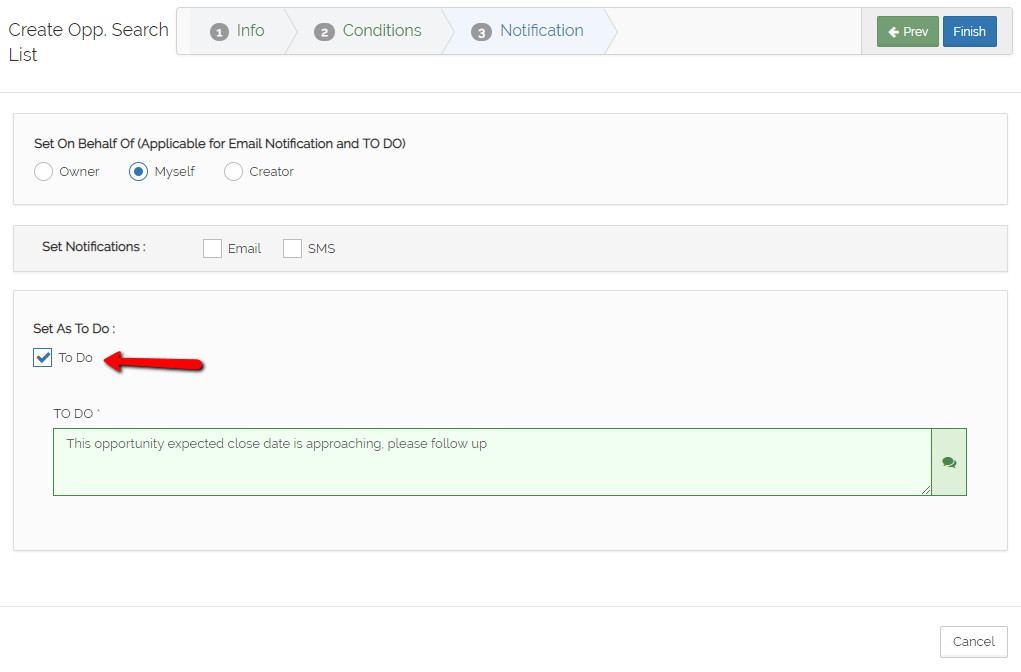 Any opportunities meeting the criteria will automatically be added to this list, and will fire off a notification / todo when entering this Advanced Search.
Interested in learning more about Mindmatrix software? Join our email list to get the latest software release notes, videos and how-to articles.
---