Knowledgebase
How do I export an opportunity?
Posted by The Team at Mindmatrix on 14 December 2015 01:15 PM
You can export Opportunities into a .CSV file and find them under the Export Status page under "Connections".
1 .To start, click on the Opportunity under Manage, you would like to export and select the export button.
2. Navigate to Connections and click on "Export Status".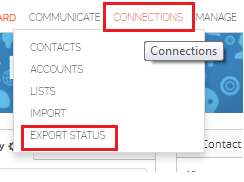 3. Click on the "Opportunities" tab to view your .CSV files and click the Download link to download these to your computer.

Interested in learning more about Mindmatrix software? Join our email list to get the latest software release notes, videos and how-to articles.
---