How do I share web leads with other users?
Posted by The Team at Mindmatrix on 04 January 2016 05:55 PM
The Anonymous Web Leads section allows users to share real time web traffic information with other users. To access this feature go to "Setup" and then click on "Anonymous Sharing".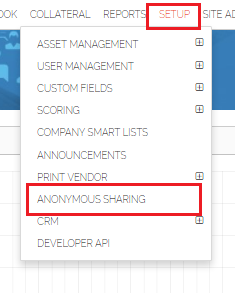 Toggle the "Share/Unshare" button to give/deny users access to your web traffic information.
Interested in learning more about Mindmatrix software? Join our email list to get the latest software release notes, videos and how-to articles.
---