Knowledgebase
How do I import contacts from Gmail?
Posted by The Team at Mindmatrix on 27 January 2016 12:54 PM
To use the Gmail pluggin, first make sure that the Mindmatrix Chrome extension is properly installed. For instructions on how to do this click here.
The pluggin tool allows you to access your live feed within your Gmail account, import Gmail contacts to the Mindmatrix platform, and view the activity of contacts that are in both your Gmail Account and the Mindmatrix platform.
To view your live feed in Gmail, click on the "Amp" icon and then click on the "AMP Feeds"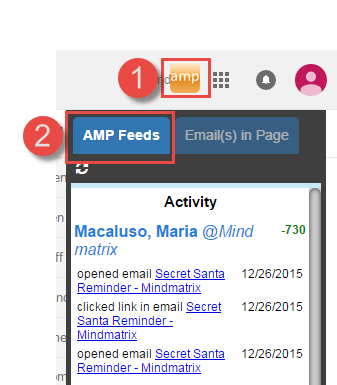 To import contacts, click on the "Email(s) in Page" tab. Then, check mark the addresses you wish to add, and then click "Add".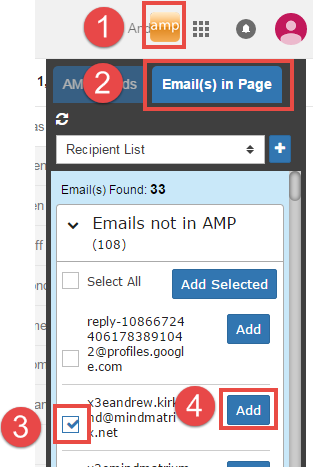 To view the status of contacts that stored in both Gmail and the mindmatrix platform, click on the Emails in AMP section and click on the contact that you want to view.
Interested in learning more about Mindmatrix software? Join our email list to get the latest software release notes, videos and how-to articles.
---