How do I make a certification test?
Posted by The Team at Mindmatrix on 05 May 2016 05:14 PM
To make a certification test, go to Setup > Asset Management >Templates > Certification > then click on "Create".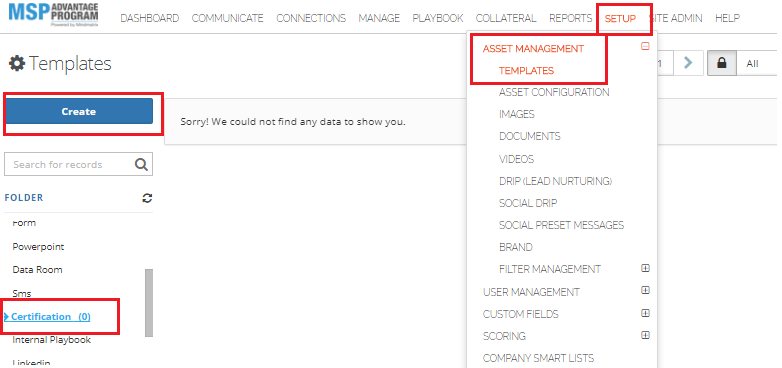 Give your templates a name and description and then click "next".
Select the pixel size of your certification program and if you wish add a thumbnail and then click next.
This will open up the "Certification Settings and Questions" section. In the "Certification Settings Tab" you create the overall structure of the test (e.i. how long a user has to take the test, the total possible score and the actual passing score, what your certificate of completion will look like ect).
The Questions tab allows you to create individuals questions. To create a new question click on the blue "add" button.
Give your question a name and score and then enter in the possible options, and use the checkmark boxes to designate correct answers.
when you are finished, click "save". Repeat this process until you have entered in all possible questions.
If you are satisfied with your settings, click save.
If you wish to modify the apparance of your certification, use the tabs in the upper left hand corner of the screen.
If you are satisfied with the appearance of your image click "Save" and then next in the upper right hand corner of the screen.
Your certification program will now be ready for use.
Interested in learning more about Mindmatrix software? Join our email list to get the latest software release notes, videos and how-to articles.
---