How To Enable Advanced Search Notification For Opportunity
Posted by The Team at Mindmatrix on 14 March 2018 04:19 PM
Feature:
This feature allows an User to set notifications for different conditions of Opportunities to various stake holders like Creator or Owner.
Who will be using this?
This feature will be used by all Users who have permission to Opportunity.
Benefits:
This will provide User to send notification email based on conditions required by him/her for Opportunities to the Owner/Creator/Own Self. e.g. Send notification email to "Creator" of an Opportunity when the Opportunity moves to "Closed-Won" providing the details and link for the Opportunity.
Process:
While creating Opportunity Advance Search List there will be a third Step called "Notifications". This step will be displayed if the User has permission for "Email" and/or "SMS".

In this Step, User can select the type of Notification from "Email" and/or "SMS" based on permission of "Email" and "SMS" respectively.
Note: SMS functionality is not operational as of now.

Once the "Email" notification is checked to set, it will verify if the notification is enabled for the User in the Profile and then enable it.

User can not set the notification email on-behalf of Owner/Myself/Creator (default will be Owner) and provide the "Subject" and "Message" for the notification email. Default subject line will be "Opportunity name: name of the search list provided in Step 1". User can select fields from the Opportunity Type selected in the search list condition (Step 2). By default, Opportunity Name, Stage, Closed-date, Creator, Owner, Created On and Updated On will be selected.

Note: In Step 2 once an User selects an Opportunity Type, he/she should not be creating all conditions in the list using same Opportunity Type.
The notification email will be like smart list notification email but this will provide details of the Opportunities with the link to open the respective Opportunity record in clean UI.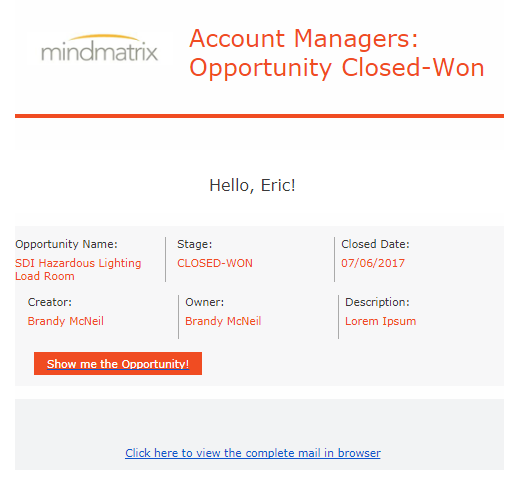 The link will be redirected to the page only if the User is logged-in in the browser or has "Remember Me" on. If different User than the email User is logged-in then it will show the "page not found error" page and if not logged-in then will take to Login page.
Interested in learning more about Mindmatrix software? Join our email list to get the latest software release notes, videos and how-to articles.
---