How to assign the MDF to Organization Groups
Posted by The Team at Mindmatrix on 14 March 2018 04:22 PM
Feature:
This enhancement is to assign the MDF to Organization Groups helpful for Enterprises like Datto which have 400+ Organizations to assign to large number.
Who will be using this?
This enhancement will be used by the Users who have permission to create MDF Fund Plan and assign to Organizations. Datto has requested it as they have over 400+ Organizations and it is a huge task to assign to large number of Organizations a fund by clicking on "Add" for each Organization.
Benefits:
This will help the User who has to assign MDF to large number of Organizations. By providing assignment to Organization groups the MDF fund plan will be assigned to each Organization within the Group. Hence User can create groups of Organizations e.g. Organization Group called Pittsburgh which will contain 'n' number of Organizations from Pittsburgh and while assigning MDF instead of selecting all 'n' Organization just by selecting this one group will help out.
Process:
While creating MDF Fund Plan in Step3, we are currently providing only Organizations to assign the fund for. The enhancement is to provide a tab for "Organization Groups" also so that User can assign the funds to Organizations and/or Organization Groups. This same will be available in Edit functionality.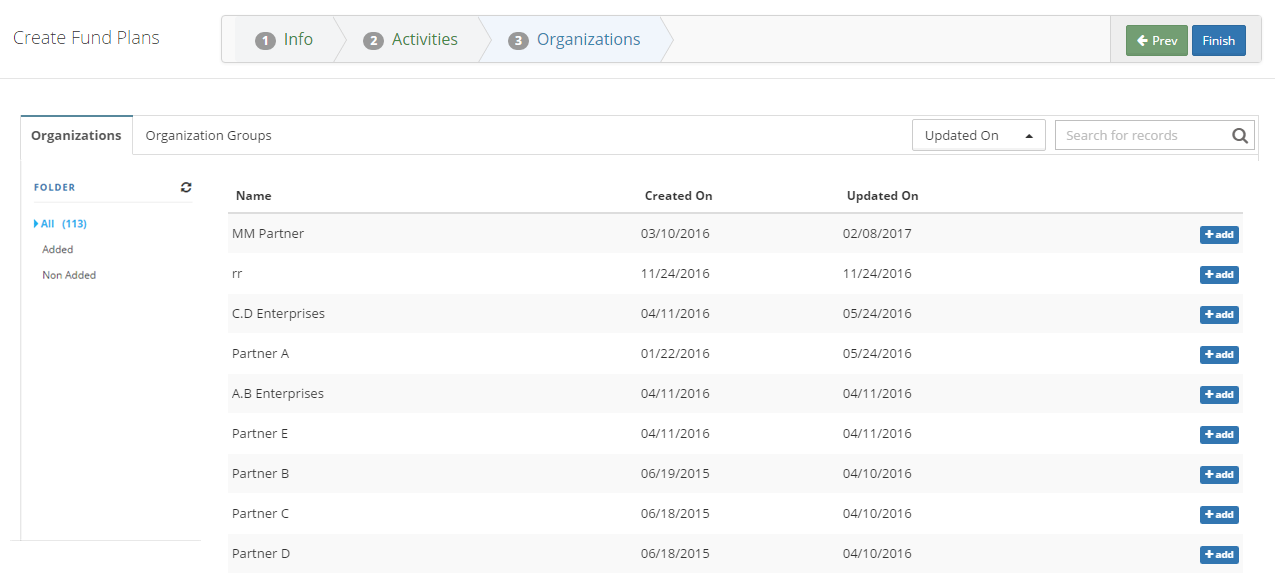 If Organization Groups are selected then the fund is assigned to all the Organizations in the Groups. If any Organization is later on added to a Group then fund will be automatically assigned to this Organization.
Note: If any Organization is removed from a Group then after the removal the Organization User cannot see the particular Fund but it will not be removed from Fund Plan report.
Interested in learning more about Mindmatrix software? Join our email list to get the latest software release notes, videos and how-to articles.
---