Knowledgebase
What is Twilio Call and how it is used in Playbook?
Posted by The Team at Mindmatrix on 11 September 2018 10:49 AM
Feature:
This feature allows the User who has Twilio integrated with AMP to call contact based on call script from the playbook and also play pre-recorded voice message for a voice-call reply.
Who will be using this?
This feature will be used by the Users whose Company has "Twilio" add-on added and User has Twilio account with which he can integrate into AMP.
Benefits:
This will provide the option to the User not only to make calls to contacts from playbook "call script" event but playback pre-recorded voice message for the event if he/she receives a voice message reply from the contact.
Process:
Once this is enabled for a company, all the Users of that Company can activate their respective Twilio account with AMP from their profile. If any Add-on is configured for the company it will display the icon (puzzle-piece) for add-on management page.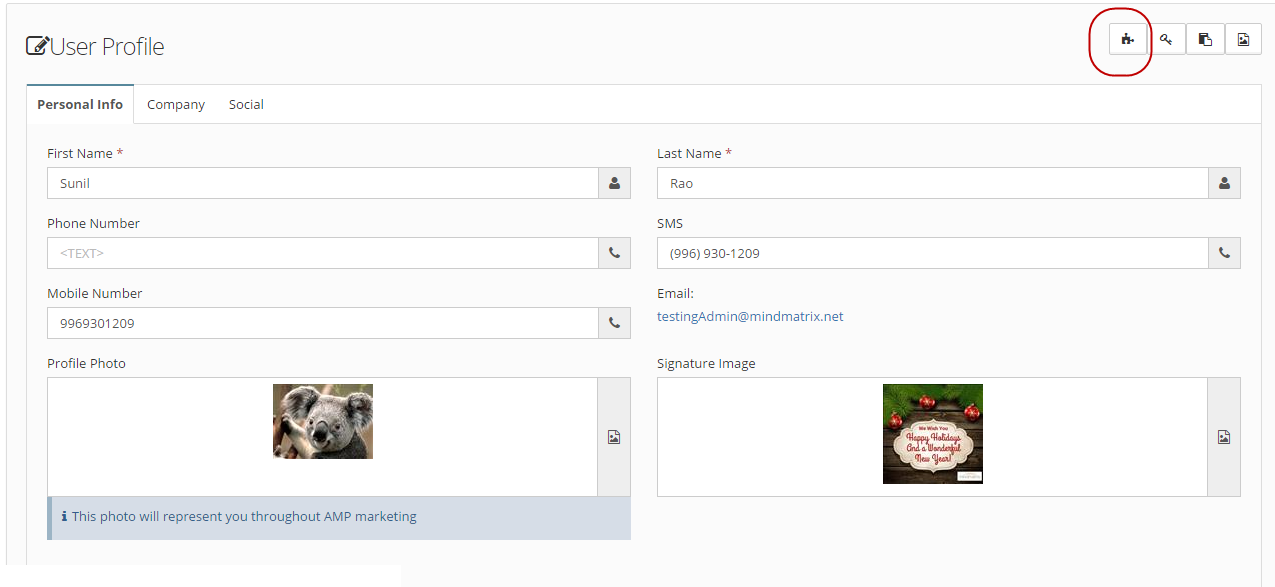 Clicking on the (puzzle-piece) icon will load the Add-on management page.

User can configure Twilio account with AMP for integration by clicking on the "Configure" button. User will provide the ACCOUNT SID, Application SID and AUTH TOKEN to integrate his Twilio account with AMP.
Once the authentication is done then the User can use this to call from "Call Script" event of playbook.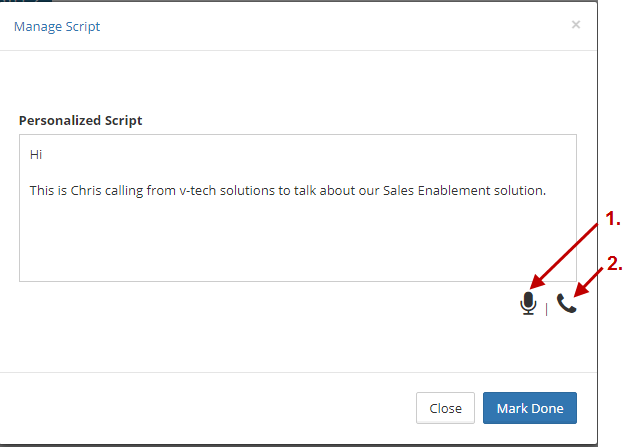 If Twilio is configured then for "Call Script" event, User can see icons of:
Record (microphone – tool tip of "Click to record a message") – Clicking on this button, the User will record a pre-recorded message for that particular event of the playbook. This is applicable for all contacts at that event. User can record different messages for different events but for same event it will overwrite. Once recorded, the icon will change to (play– tool tip of "Click to play the recorded message").



Once on call and User receives voice message indication, User can play this message as voice message reply. User can close the event for the contact and connect with another contact while the message is recorded as voice message in backend from Twilio.



On Click of the "Play" icon while not on call User will get options of "Play" – to play the recording, "Remove" – to reset the recording from the event.


Call (phone– tool tip of "Click to call the contact") – Clicking on this button, AMP will call the contact through AMP. This icon will be disabled if the contact has phone number (any of mobile, work or home) configured and if more than one number is configured it will provide option to select a number to call.


Interested in learning more about Mindmatrix software? Join our email list to get the latest software release notes, videos and how-to articles.
---