How to I access landing page reports?
Posted by The Team at Mindmatrix on 07 June 2019 04:10 PM
Go to Reports>Web>Landing Page Reports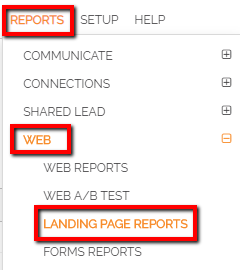 In the Top Successful Landing Pages & Stats, you can see your top performing landing pages and the number of views the page received.

Total pages shows the total number of landing pages created
Active pages shows how many pages have at least 1 view
Total visits shows the total number of visits to all of your pages
Unique Visits shows the total number of unique visits to all of your pages
Total signups shows the number of contacts who completed a landing page
Effectiveness shows the number of total signups to total unique visits
In the Recent Popular Landing Pages, you can view the landing pages by clicking on the landing page name, as well as stats like total visits, unique visits, signups, effectiveness, and created on. You can also export this data by selecting the download button.

Interested in learning more about Mindmatrix software? Join our email list to get the latest software release notes, videos and how-to articles.
---